Great for Online Trivia Quizes, Team Building,
Parties, Fundraisers, Happy Hours & more!
QuizZoom! was created as a tool for use with Zoom (and other Video Conferencing software like MS Teams, Skype, and Discord) to facilitate online Trivia Contests. It provides a simple and uniform way for participants to receive and answer Rounds of Questions, and for the Quizmaster to Score each Team's Answers. Team Members work together and are able to see Answers by other Teammates in real time, even if in different locations.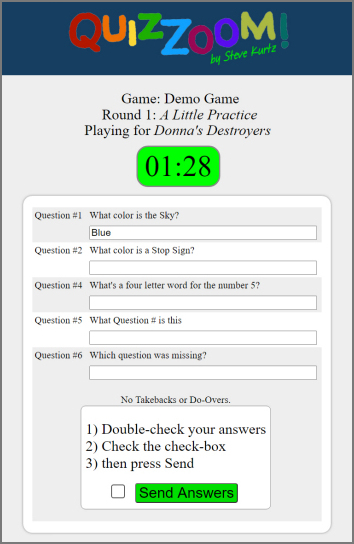 General Game Play
Participants gather in Zoom (or other video conferencing application).

ONE TIME:

The Quizmaster drops a Game Link in Chat. This link is the same throughout the Game.

Participants click on the Link and identify themselves, and are placed "on hold".

The Quizmaster starts the round. Optionally (recommended) the Quizmaster also separates the Participants into Breakout Rooms, one Room per Team.

Participants can then see the Round Questions and converse. Team Captains are able to enter answers. All Teammates can see the answers live as the Captain fills in the questions.

When satisfied, the Team Captain submits the answers for review.

The Quizmaster Scores each Team's Round (and brings Participants back from their Breakout Rooms of needed).

The Tally screen can be shared by the Quizmaster if desired.

Repeat!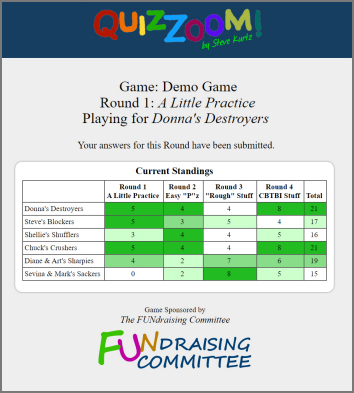 Game Options
Single Captain: Great for an Icebreaker or Team Building. One player is designated the Captain, who is responsible for collecting answers from teammates and submitting the final answers to the Quizmaster. Teammates see the Captain's entries in real time.

Multi Captain: Multiple people on a Team can act as Captain. All Captains can enter answers to questions, and everyone still sees any answers entered prior to submitting the Round for review.

Individual Players: Each Participant is their own Team and Captain. In this case, Teams are set up during Game Play (instead of in advance).
Rounds
The Quizmaster sets up all Rounds in advance. Each Round consists of up to 20 questions. There can be as many Rounds as desired.
Any question can be accompanied by a Photo or Sound Bite, as in "Name this Tune!"
Rounds are Activated by the Quizmaster after Participants sign in through the Game Link.
Rounds can be designated "Practice". Practice rounds do not count toward the overall score.
Rounds Timers
When creating/editing a Round of questions, the Quizmaster enters the Time for the round. When Participants begin to answer questions, they also see the Countdown Timer to keep them appraised of their status.
By default, the Round Timer is informational only. Once it runs down ... nothing happens. Captains still have to Submit the Round Answers to be scored.
Optionally, any of the Rounds can be set to "Enforce Timer". When such rounds run out of time, they are automatically submitted for scoring.
Sponsorships
QuizZoom! can be used for Fundraisers, and provides the opportunity for $ponsorships. A person/organization may Sponsor the entire Game or just one Round.
The Game Sponsor's name and/or logo/photo will appear on all Player screens.

The Round Sponsor's name and/or logo/photo will appear on Player screens when that Round is being played.
Frequently Asked Questions
Is the Q/A Multiple Choice?
If you want. Answers can be A) any text typed into a text fields, B) multiple choice (drop-down selection), or C) true/false. Answers are evaluated by a Live Human, your assigned Quizmaster.

Can Latecomers join the game?
Yes. Latecomers can join the game between Rounds, but they cannot make up for lost time or rounds.
Interested? Questions?
Would you like to host a game for your organization?

Please reach out to Steve Kurtz at Sewell Internet